DETAIL
* 5,000 yen course (including 2 hours of free drinks)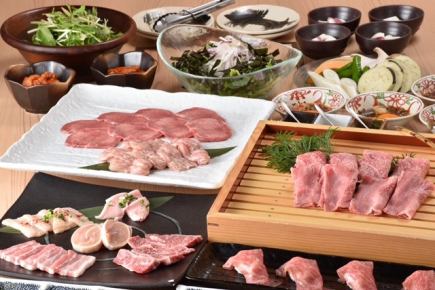 By using a coupon5000 Yen
5% added when using credit card.
All-you-can-drink available

[All you can drink 2 hours] Last order 30 minutes ago
* Weekend (Friday, Saturday, Sunday, holiday, holiday before holiday) 4 people or more.* It is not possible to use in March (Friday, Saturday and Public Holiday).* Baked Shabu is not included.
Course menu
[Appetizer]
Broiled sushi
Chinese cabbage kimchi
【salad】
· Chaimi salad
· Pasolisarada
- Grilled vegetables
【Salt-grilled】
Ripening tongue
· Seseli
※ Please enjoy with Pajolisalada.
【Sauce】
· Red meat
- Harami
· Chicken peach meat
- Pork ribs
【Miso Baked】
·hormone
·cartilage
[Gohanbutsu]
·Bowser
【sweetness】
- Almond tofu
* Room usage hours are up to 120 minutes.
All-you-can-drink menu
·beer
· · Draft beer (super dry) · non alcoholic beer
Shochu
· Potato · wheat · rice · soba
· Sake High
· Lemon · Lime · Giant Peap · Calpis
·Sake
And cold-hot sake
·plum wine
Rock soda
·Soft drink
· Oolong tea · cola · Calpis · orange · apple · grapefruit
- A glass of wine
, Red, and white
South Korea liquor
- Rice wine
·Whisky
·Highball
Coupon that can be used
【Farewell reception party !!!】
2h all you can drink
*5000 Yen

Presentation conditions

Presented at time of reservation & when entering the store

Conditions of use

* Friday, Saturday, Sunday, holiday, the day before holiday will be available from 4 people.* 5% added when using credit card.Other ticket services not be used

Expiration date

Until the end of June, 2018
2018/03/30 update