Course details
【Sukiyaki】 or 【Shabu-shabu】 course * 8,640 yen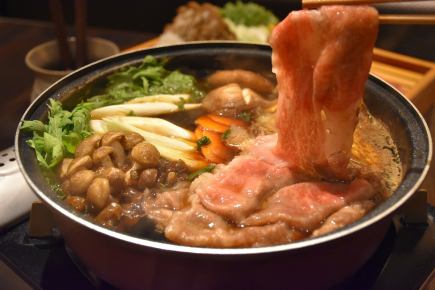 By using a coupon8640 yen
Usually 10,800 yen for coupon use 8640 yen
Available days for reservation

Monday - Sunday - Public holidays - Holidays
Dinner on an important day.A wonderful night with exquisite meats offered by the attentive cocktail, whiskey, wine, champagne and Ayame.
Course menu
【Appetizer 1】 · Japanese beef broiled sushi
· Crab claws
· Marinated vegetables
· Fuguitim
【Appetizer 2】 · Tempura 4 kinds
【Sukiyaki】 or 【Shabu-shabu】
· Wagyu beef lean (female) 3 kinds · Pork belly · sirloin
· Itoshima vegetables 7 kinds · Pork loin · Crime
· Itoshima vegetables 7 kinds
【Sukiyaki Dinner】 or 【Shabu Shabu Din】
· Eggs and rice · Udon udon
【Dessert】 Sharpet
※ Reservation required
* Seasons, purchase, etc. are also occasions when there are changes in some menus such as appetizers, used parts, producing regions.
Coupons that can be used with this course
2018/11/08 update